If you move well, you feel well.
PhysiYoga is made up of a caring team of individuals, who work together to produce exceptional experiences for our clients and help them find ease and joy in movement. 
We have a dedicated front office team, and our physiotherapists work with exercise physiologists, Pilates instructors, and yoga teachers as well as the local community and greater health community networks.
We believe Movement is Medicine. We are passionate about enabling individuals to enjoy movement. Therefore, by helping our community to move better we are addressing physical inactivity that is a key contributor to chronic health conditions in our country. 
These are our Core Values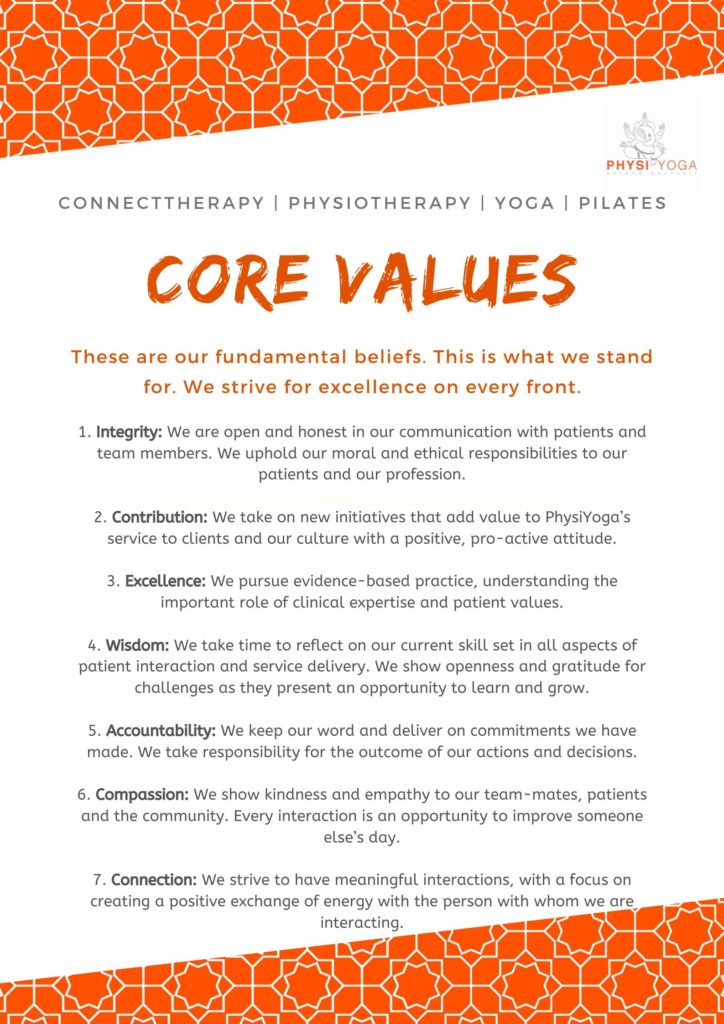 At Physiyoga we have a three part process of identifying where the client is in their health-journey, and how to effectively move the client toward their desired goals through our Pain to Performance Pathway. Our in-house training is designed to support our team achieve quick results for our clients and transition to long term, positive outcomes.
PhysiYoga Treatment Pathway

Practice Principal Emily Eglitis is Australia's first Certified ConnectTherapy Practitioner and the most highly trained in Australia (the only one in South Australia). ConnectTherapy is a holistic framework for assessing the whole body and the whole person. It is a structured approach to understand what is causing the patient's symptoms now, and what is the underlying cause and contributing factors that need to be addressed for long term success.
Other unique benefits to working at PhysiYoga include
Collaboration and team environment: Everyone is a valued member of our team, bringing their personal experiences, knowledge and interests which creates a vibrant working space

Movement Therapy: Yoga & Pilates

CPD: Structured in-house training program. Our signature CPD program individualised and includes an accelerated Private Practice Mentoring plan to up skill in the nuances of Private Practice. Heavy focus on enhancing manual therapy skills learning ConnectTherapy techniques

We value personal growth, flexibility, exposure to global perspectives in physiotherapy and opportunities for travel
We are located in the picturesque country town of Strathalbyn in the Adelaide Hills, 60km southeast of Adelaide. We are connected to our local community of approximately 6,500 people. The beautiful Mediterranean climate means we can enjoy the local parks, trails and outdoor country lifestyle.
We are just 30 minutes from the South Coast beaches of Goolwa, 20 minutes from the conveniences of Mt Barker and 15 minutes up the road from the Langhorne Creek Wine region. Strathalbyn is country living at its best!
If you are passionate about being the best movement therapist (physio, yoga teacher, pilates instructor) possible and you want to thrive in Private Practice, with a group of like-minded professionals, then we would love to hear from you!
Email Emily@PhysiYogaStrath.com.au to discuss current employment opportunities.