Finding Your Perfect Class
Our signature exercise system is designed to move you from pain to performance, with options to suit every body and every goal. Finding the best class for your depends on not only your current experience and abilities, but what you want to get out of the class. This information is intended as a guide to get you started.
Call our friendly team to help you find and book the right class. Or if you've already decided, book online via the yellow button above.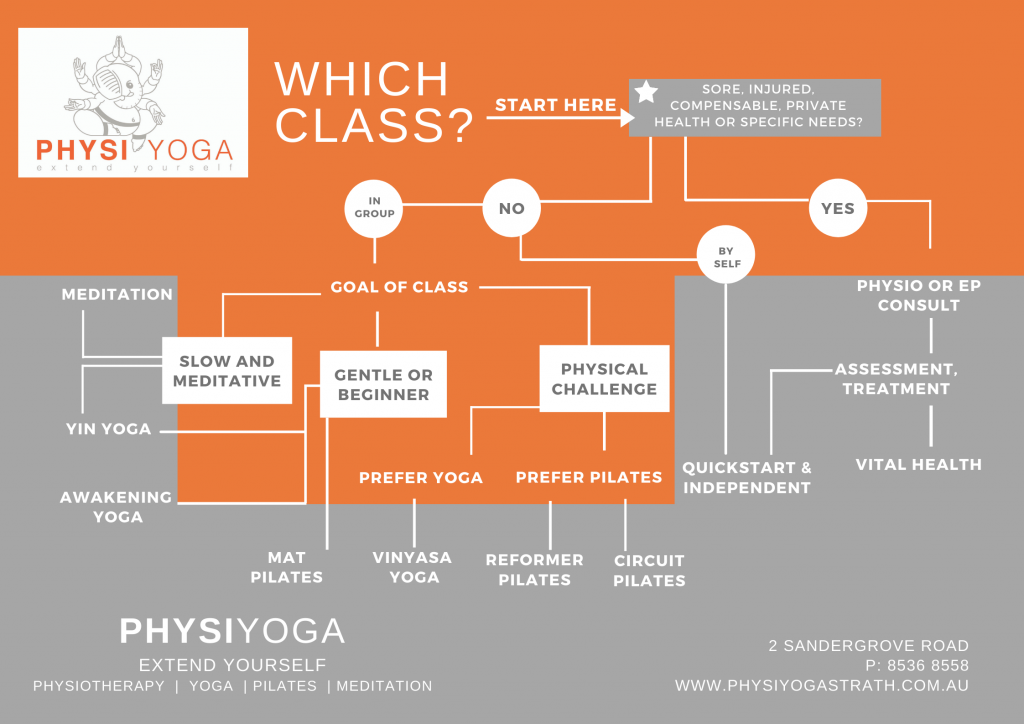 This short 3 minute video below can help you find the right class. If you're not sure, please give us a call and we'd love to help you.
We fill out all the foundations required for great posture that supports easeful movement. Level 1 classes gently improve strength and flexibility so you feel strong and light long after the class is over. These classes provide options for pain or injury so you can choose the level right for you. Level 1 classes include…
Mat Pilates
Awakening Yoga
Yin Yoga
Quickstart
With the foundations laid in Level 1, we now start to add greater difficulty. The challenge is to maintain your posture and form (without accumulating tension where it shouldn't be), while the exercise variations are made harder. We move through larger ranges of movement a little bit faster. Level 2 classes include…
Reformer Pilates
Vinyasa Yoga
Group Physio Repertoire 1
Our focus is on form, but we push the limits to further extend your strength and flexibility. Strong balance challenges, arm strength and deep stretches may be used. We focus on fluidity of movement and maintaining efficient breathing to determine just how far to push your limits. Level 3 classes include…
Vinyasa Yoga
Circuit Pilates
Group Physio Repertoires 2 & 3
We have created our signature PhysiYoga Biomechanical Screening process to determine exactly where you have areas of your body that you can work on to improve your strength, flexibility and posture for better, easier and pain-free movement. 
We use this as a platform, in conjunction with an understanding of your movement history and goals, and we tailor a program around it.  Call us today to find out more or book an initial assessment online.