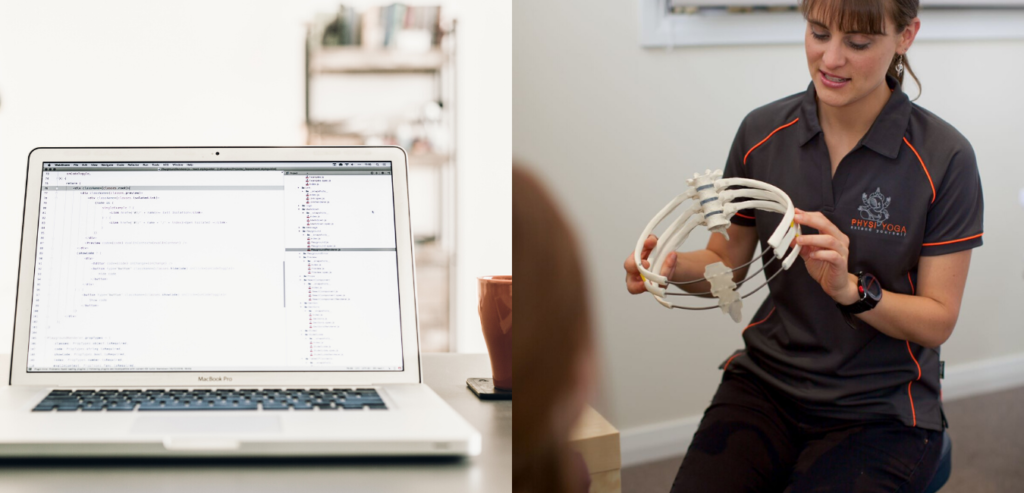 PhysiYoga now offers virtual physiotherapy consults via Telehealth. This means that from the comfort and privacy of your own home, you can now access the assessment, diagnosis and individualized treatment planing that is vital to finding long-term solutions to your pain and movement problems.
Many of our Frequently Asked Questions are listed below.
What is Telehealth?
Telehealth is a way in which we can deliver physiotherapy advice, education and self management programs virtually to our clients at times when they cannot physically come to our practice. Telehealth has been recognised by the World Health Organisation as:
"The delivery of health care services, where distance is a critical factor, by all health care professionals using information and communication technologies for the exchange of valid information for diagnosis, treatment, and prevention of disease and injuries"  (Lee et al 2018).
Fact Sheet: Telehealth at PhysiYoga for General Practitioners
How does it work?
You can book your appointment online or over the phone. We will call you at the time of your initial appointment to help you. You will receive an email with a link to access your appointment. Your physiotherapist will initiate the call and at the end supply you with your individualized plan. You'll have two weeks access to your physiotherapist for further adjustments to your plan and advice.
Is it even effective?
We recognise that there are some things that can't be done remotely, but there are so many aspects of your care that can be delivered virtually with great success. These include:
Injury diagnosis
Education: What is going on? Why is it happening? What can I do about it?
Empowerment through self-treatment strategies
Individualized Exercise Prescription – general exercises, Pilates or Yoga based
Postural Assessments and advice
Post-operative physiotherapy advice
Pain management education and coping strategies
There is a growing body of evidence to show that Telehealth is at least as accurate for diagnosis as in-person consults as well as being an effective way of helping people improve their daily function (Lee et al 2018).
Is it right for me?
Our friendly team are happy to discuss your needs. While not every assessment and intervention is available online, we can provide much valuable advice:
What's going on with my body?
Why is it happening?
What can I do about it?
Is it responding to management like it should?
Do I need to see a Doctor and get some scans?
Our Guarantee to You
Telehealth is not for every single condition. If during your consultation our physiotherapist recognizes that Telehealth is not appropriate for you (not safe or not able to help you) then we won't charge you for the consultation. 
What do I need to participate?
A device to "attend" the session – computer, phone or tablet. An email address for us to send the link to and an internet connection.
Some other tips
Wear comfortable, loose clothing to expose the region that will be assessed
Ensure good audio – headphones can help
Help enhance the lighting by being 'front lit' – try not to have light sources behind you
Privacy – choose somewhere quiet and private
Where can I do it?
Considering the personal nature of the consultation, we recommend you find a location that is quiet, private, reasonably well lit and not too noisy.
You will need: a computer or other mobile device with a camera, an internet connection and an email address.
I'm not very tech savvy…
We are just a phone call away to help you. We will step you through each step.
How to Pay? 
When booking online you will pre-pay your consult just like you would for concert tickets or for airfares using your credit card.
If your consult is booked by your physiotherapist or our front office team, we will invoice you after the consultation and you can pay easily with your credit card (EFT and phone processing is available). 
Our priority during the current COVID-19 Pandemic situation is to provide Physiotherapy services to keep people moving and feeling well while access is limited.
What's the Pricing?
There is so much value in getting the right diagnosis and advice and the virtual time with our physiotherapy team. Due to the current Pandemic and associated financial hardships, current pricing is based on 75% of the therapists face to face consult fee. Current pricing is listed here.
This includes 2 weeks of unlimited access* to your physiotherapist for updates and advice
Private Health Fund Rebates – are there any?
Private Health Funds and Medicare have started providing rebates for Physiotherapy Telehealth consults.
Please check with your fund for details. Our friends at the Australian Physiotherapy Association have a summary of health funds providing rebates for Telehealth for physio.
Can I  use Telehealth with Return to Work SA or insurance cases?
We have many compensable clients who visit us in our clinic. Talk to your case manager to see if they will consider sending you to an online consultation session in the current climate. There are many benefits from early consultation with a physiotherapist. The benefits for compensable cases are:
Early use of Outcome Measures
Treatment focussing on self-efficacy and empowerment
Non-reliance on passive modalities
Exercise focus
What about Classes?
Personalized exercise programs are a perfect fit for the Telehealth consultation option. We can do this for all types of exercises and for Yoga and Pilates. Our group classes are coming to our Online Studio soon.
Terms and Conditions
* unlimited access during normal business hours, Monday to Friday and using the specified Telehealth platform's messaging service. 
References & Further Reading
Cottrell, MA, Galea, OA, O'Leary, SP, Hill, AJ, Rissell, TG (2017) Real-time telerehabilitation for the treatment of musculoskeletal conditions is effective and comparable to standard practice: a systematic review and meta-analysis. Clinical Rehabilitation, Vol 31(5), 625 – 638.
Lee, AC, Davenport, TE & Randall, K (2018) Telehealth Physical Therapy in Musculoskeletal Practice. Journal of Orthopaedic & Sports Physical Therapy, Vol 48(10), 736-739
Richardson, BR, Truter,P, Blumke, R, Russell, TG (2017) Physiotherapy assessment and diagnosis of musculoskeletal disorders of the knee via telerehabilitation. Journal of Telemedicine and Telecare. Vol.23 (1), 88-95.